Publication
The Strategic Partnership Cooperation Framework 2017- 2021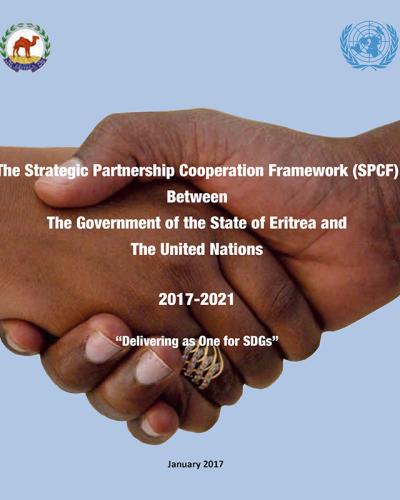 This Strategic Partnership Cooperation Framework (SPCF) 2017-2021, encapsulates the agreement between the Government of the State of Eritrea and the United Nations on selected areas of work that will constitute development cooperation over the next five years. The SPCF draws from and seeks to enhance Eritrea's development aspirations as articulated in the National Charter of the People's Front for Democracy and Justice (PFDJ), which states inter alia, that the government shall seek to build a prosperous, peaceful and just country based on the principle of self-reliance. The SPCF is guided by the National Indicative Development Plan (NIDP) 2014-2018 and by the 2030 Agenda for Sustainable Development.
The SPCF is guided by the UN's "Delivering as One" approach, ensuring a cohesive response to national development priorities. It was developed and articulated through a consultative and participatory process reinforcing the principles of aid effectiveness and mutual accountability. The SPCF remains a living and rolling document designed to accommodate issues emerging from the national development plan, evolving Government policies, regional and international issues relevant to its implementation.
The Government of the State of Eritrea and the UN System are thus committed to working together in the spirit of partnership, to implement the SPCF as a contribution to the achievement of national development goals and aspirations.
Published by
FAO
IAEA
IFAD
ILO
OCHA
UN
UNAIDS
UNDP
UNEP
UNFPA
UNHCR
UNICEF
UNIDO
UNODC
WHO
Published in collaboration with
The Government of the State of Eritrea
Goals we are supporting through this initiative
Related Resources