Story
A girl in her periods faces so much discomfort at school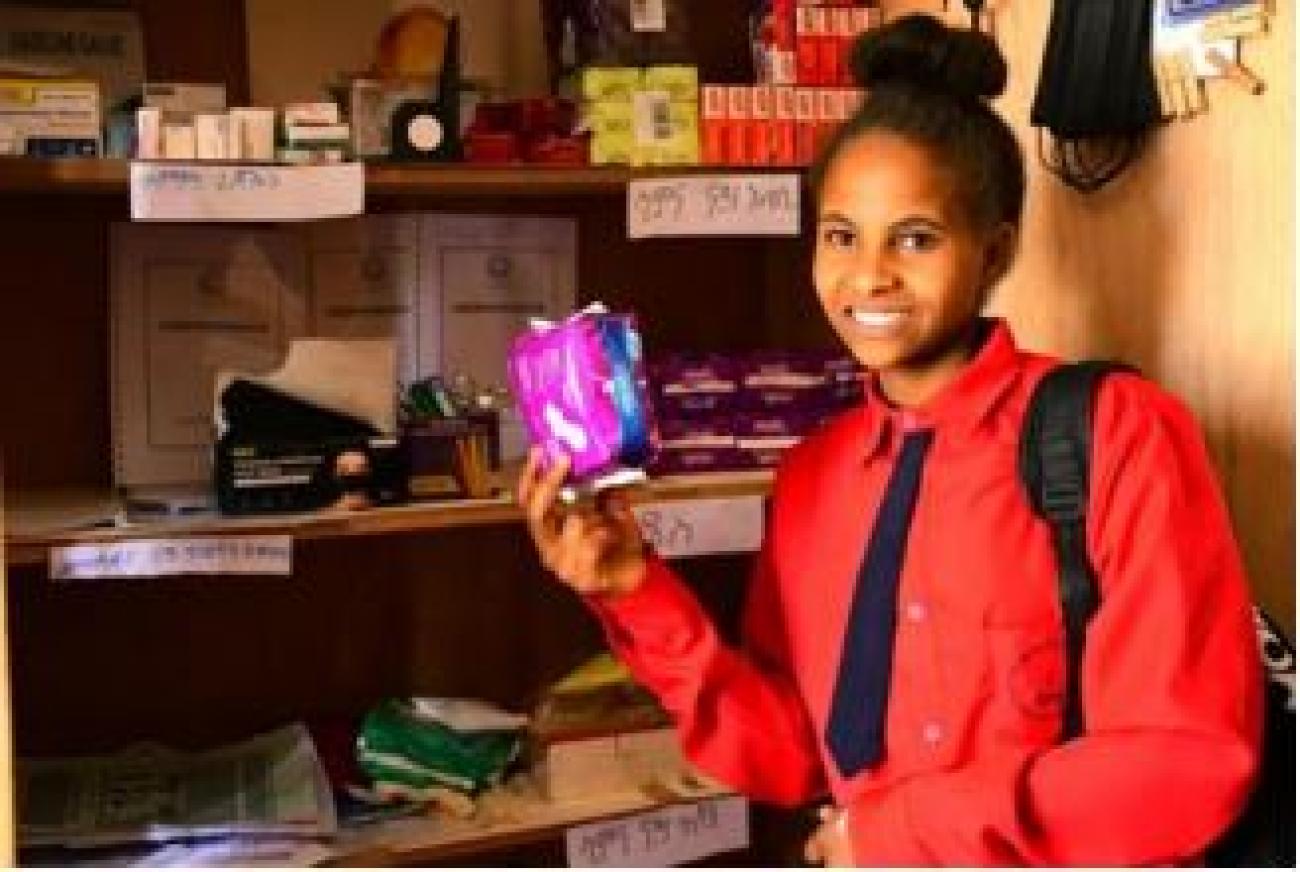 The Menstrual Hygiene Program at Adi-Baro elementary and Junior school
Only 50% of all schools in Eritrea have access to water and about 67% to latrines, according to the Ministry of Education's current School Water, Sanitation and Hygiene Profile Assessment Report. Until recently, the Adi-Baro Junior and Elementary School was one that was not equipped with a toilet facility for the over 250 students that have enrolled from villages of Adi-Baro and Adi-Mogos and from other villages nearby. 
With the financial contribution of the Government of Japan, the Ministry of Health in partnership with UNICEF, contribute to mobilize the community to build latrines for girls and boys in Adibaro Junior School. In addition, almost 40,000 menstrual hygiene booklets were produced and distributed among girls and the community members in Zoba Debub to enhance girls' knowledge on menstruation and menstrual hygiene management.
Adi-Baro, is one of the schools that, with financial contribution of the Government of Japan, scaled up its menstrual hygiene management services for adolescent schoolgirls.
Sesen Mihtreteab, a fourteen-year-old adolescent girl, is a 7th Grade student at the Adi-Baro Elementary and Junior School.
"Until most recently I faced so much discomfort at school during my periods. I was getting afraid of stain to show because of lack of private place to change my pads. Absenteeism from school for few days was a norm for us as adolescent girl around here.  I know a lot of girls that have discontinued school permanently because of the discomfort we felt during out menstruation. Some girls like me were terrified of what other students at school will say or if they will bad mouth them of their clothes if the stains showed. The boys at school used to say that they will not sit with a girl who is in her periods. This kind of discrimination against us at school became a cause for many of other girls to discontinue school altogether."    
Having a school within a village, that has health, nutrition and menstrual hygiene services, gives girls like Sesen, a better chance to build a future for themself. She is convinced that breaking down barriers such as absence of sanitation and menstruation hygiene facilities is a vital step to ensuring access to education for all.
"We did not have toilet facilities at the school before and students were going to do their thing out in the open. It was only recently that we had separate toilets built for the girls and boys within our school by the community as part of bringing their village to Open Defecation Free status. Girls at the school are now able to use the toilets comfortably. The idea of having a separate toilet especially for the girls at the school has encouraged all adolescent girls to use the facility especially during our periods."
Adi-Baro School has gone an extra mile by dedicating a separate medical room for the Menstrual Hygiene Management services that adolescent girls are able to access when experience menstruation while in school.
"We also use home-made sanitary towels which we wash and dry them inside the medical room. While doing this we use the sanitary pads provided at the school. This medical room is also equipped with liquid detergent and sanitizer and a disposal for the pads we have used."
Clean water is supplied to the Adi-Baro Junior and Secondary School through an outlet from a nearby water reservoir which is stored in water containers at the school's entrance, the school's medical room and outside the latrines constructed separately for the boys and girls of the school.
The village of Adi-Baro has been declared open defecation free in February of 2022 through the Community Led Total Sanitation (CLTS) approach, which was introduced in Eritrea in 2008. Now, Adi-Baro Junior and Secondary School have a separate toilet constructed for the girls and for the boys.
Students at the school have water container at the entrance of the latrine that is fitted with a tap water which is used for flushing the toilet and for hand washing which contribute to their health and wellbeing.
 "Now we are able to play different kinds of games at the school even when we are on our periods. We play traditional games like 'Handay and Tempo' and the common rope-skipping, football, volleyball and so on. To be able to do all of these activities in the company of the boys does give me a sense of pride to be a girl", said Sesen.
Empowering adolescent schoolgirls through their active engagement in school clubs, has been enabling them to gain life skills in personal health, nutrition and menstrual hygiene management.
The Eritrea government has introduced Menstrual Hygiene Programme across all schools with adolescent girls. This programme coupled with the distribution of the brochures and the successful WASH intervention at Sesen's school has helped improve the way adolescent girls think of themselves in their society.
"I would like to take this opportunity to thank the Government of Japan and all the donors that have contributed their share in the printing and distribution of this brochure to all the adolescent girls at my school and bringing our village and school open defecation free. You should know that all adolescent girls in my school are benefiting from this handbook. It is my wish that you continue the good job." concluded Sesen.
UN entities involved in this initiative
UNICEF
United Nations Children's Fund