Story
Community health volunteers lead the drive against malnutrition in Eritrea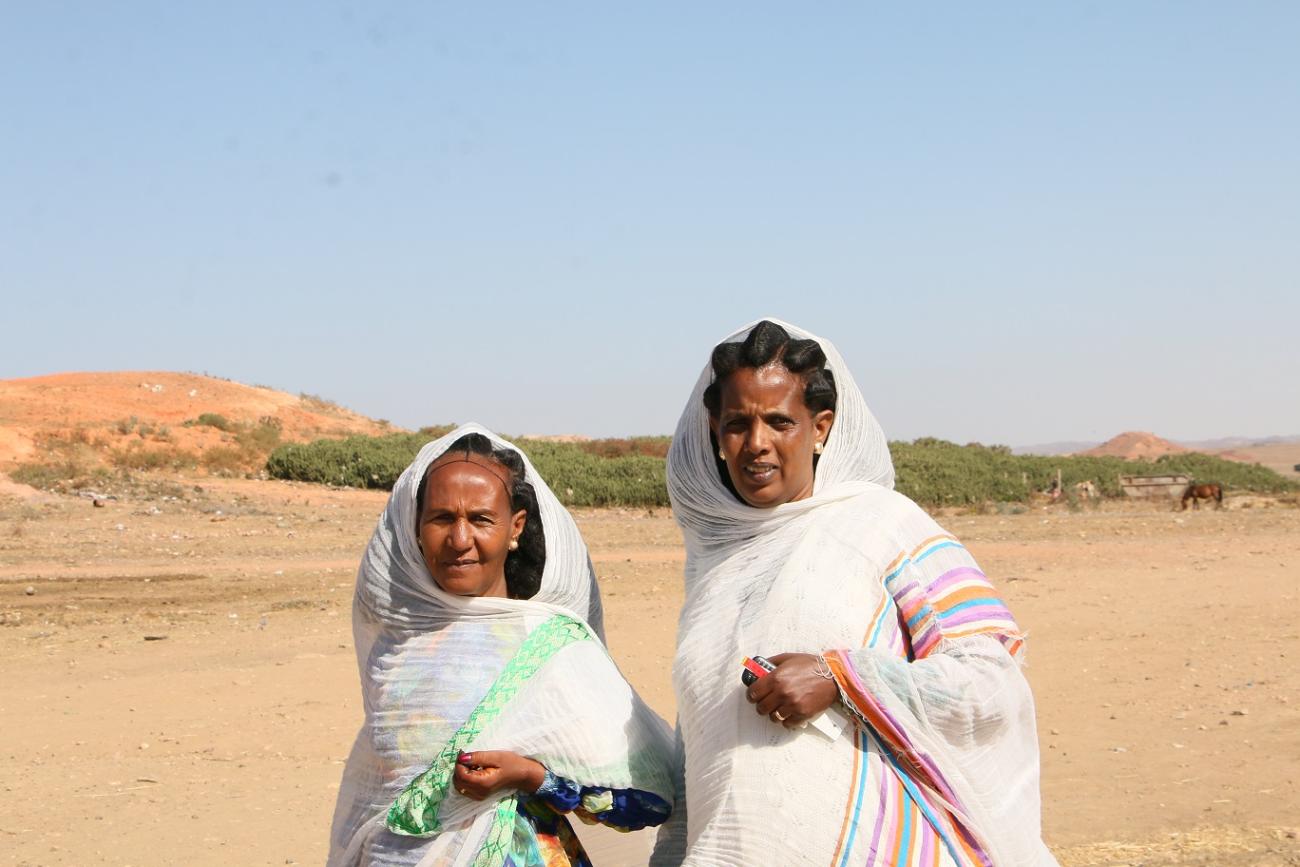 Trained community health volunteers are able to screen and detect malnutrition among children under five and refer them to health facilities for treatment.
Adi-Sagdo, Villago Community Hospital – At first sight, Genet Mahari 49, and Tieba Abraha 45, are just your everyday mothers going to visit a neighbour in the village. They call out from beyond the fence of wandering goats, and today they've come to visit 32-year-old Yodit Kidane and her two-year old daughter Sayda Solomon.
After exchanging a few pleasantries, the talk turns to the child.
"How are you little Sayda?" asks Genet as she lifts the child in her arms and coos to her gently. They ask Sayda's mother for the child's health card and Tieba produces a MUAC tape and proceeds to measure the mid-upper arm circumference of little Sayda. Tieba is concerned about the measurement of the child's mid-upper arm.
"You need to take the child to the Villago Community Hospital," Tieba says to Sayda's mother Yodit. "We think she's not getting enough nutrition in her diet."
Genet and Tieba are community volunteers who have been trained on the community mobilization, screening, and defaulter tracing for integrated management of acute malnutrition (IMAM) and on community-based infant and young child feeding (cIYCF) practices by the Ministry of Health, with support from UNICEF. The volunteers are trained to use the MUAC tape to measure whether a child is malnourished or not.
Twice a year, the health volunteers also receive refresher trainings on various topics including advising mothers how to prepare healthy nutritious foods using locally available resources. Between themselves and six other community volunteers, Genet and Tieba are responsible for 418 households in their community.
After bidding farewell to Yodit, the duo move on to other homes on their list and repeat the procedure.
UNICEF supports the Ministry of Health (MoH) to build its systems to improve the delivery of services, and to provide quality treatment of Severe Acute Malnutrition (SAM) effectively reaching almost 50,000 acutely malnourished children with lifesaving interventions every year.
At the community hospital, Yodit and Sayda are met by Alganesh Takaste, the resident nurse and the Nutrition Focal Person who checks the child's health card and promptly assess her weight and height. Sayda weighs only 8.5 kgs and is 77 cm tall, which is a bit low for her weight and her height.
"I will provide you with some supplementary food and teach you how to prepare it and feed it to your child. You will come back to me after one month and we will check her again," says Alganesh to Yodit.
Yodit receives six bags of UNIMIX which is a fortified corn-soya blend and is highly nutritious and proven to help children regain their weight.
Every year, UNICEF procures nutritional supplies to treat malnutrition among children under-five which include (RUTF, F-100, F-75 and Resomal and Unimix). UNICEF also supports the trainings of health volunteers like Genet and Tieba who are at the forefront of the efforts to detect, prevent and treat malnutrition.
Additionally, UNICEF procures medicines to treat common childhood illnesses and Vitamin A supplements, and vaccines to prevent other diseases like measles, tuberculosis etc, which are closely linked to malnutrition.
UNICEF supports the Government of the State of Eritrea in its efforts to provide equitable health services to all the children of Eritrea and towards achievement of the Sustainable Development Goals related to health. UNICEF's partnership with and support for the government's efforts is augmented through the generous contribution of donors who provide regular resources; and donors like the Government of Ireland and the Government of Italy who provide funding for UNICEF's Humanitarian Action for Children (HAC), that supports life-saving interventions for the children of Eritrea.
"We are happy that we are able to serve our own communities and feel proud that our small efforts help to support the government's goals to treat malnutrition at the community level, so that all our children are healthy and nourished," say Genet and Tieba, smiling with the knowledge that they are respected members in their communities.
UN entities involved in this initiative
UNICEF
United Nations Children's Fund